Pay without commission


Don't spend money on unnecessary commissions when you're abroad! With the Progresive package, avoid hidden costs and fees when exchanging money abroad and make all payments with Mobi Banka Mastercard cards.

Don't carry cash
Don't risk transferring cash across the border or gp searching for an exchange office before you make a purchase. Take Mobi Banka Mastercard card and make payments easily, safely and without commission.
---

Payment account with 6 available currencies, at eny time!


Wherever you go, you can have at least six different currencies on your payment account!

Online currency exchange
When you fly abroad, you can change your money at a favorable rate, in our application. At any time you can exchange your money in the currency that suits you.
---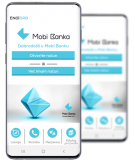 Everything about your Mastercard card, in one place
Through your internet and mobile app, you have an insight into the balance of your account, and you can set limits, enable or disable turn your spending channels (ATMs, outlets, and the internet).

All settings including card management are available through the application - activating, selecting or changing the PIN, temporary or permanent blocking, and replacing the card.