From now on, if you forget to bring your payment card with you, you can withdraw money on any of Mobi Banka's ATMs with the new mCash option. All you need is an installed and personalized Mobi Banka's application on your mobile phone.
mCash allows you to withdraw and deposit money or check the account balance, using your phone on any Mobi Banka's ATM.
Preconditions for use:
Active current account in Mobi Banka
Individuals with official residence in Serbia (foreigner or a local inhabitant with a residency in RS longer than one year).
All mCash transactions are done from the current account, and by using this option, it's also possible to both withdraw and deposit RSD and EUR on ATM.
Persons authorized for using your current account don't have a possibility to use this service.
---
NEW: Make online payments with mCash in Meridian bookmakers
If you are customer of the MERIDIAN BET, make an online payment via Mobi Banka's mCash service and get 50% of the bonus. Just choose the Mobi Banka's mCash service as payment method and without the use of the card, you will have a simple and secure transaction.
How to use mCash?
1. Before you log in to your mobile application, choose mCash option and enter your PIN.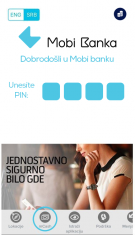 2. App will generate barcode that's going to be valid for 5 minutes. You have unlimited number of attempts to generate & enter barcode in one session.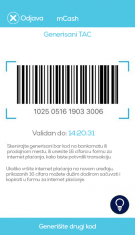 3. Choose mCash option on ATM's starting screen by pressing the green field.


4. Bring your mobile phone screen with the code, to the bar code reader (located on the right side of the ATM), or enter 16 digits manually.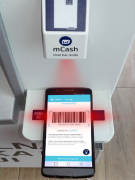 5. When the authorization on ATM is successfully done, you can: withdraw money, deposit money or check your account's balance.